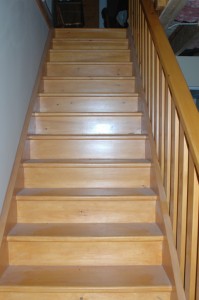 Bowerman Project:  Housed stringer stairs and hand rails fabricated from white pine.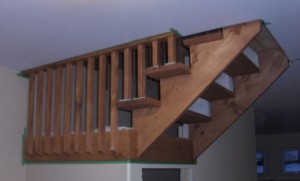 Hayden Project:  Upper section with notched stringer and open treads.
Handrail detail and lower stair section with housed stringers and enclosed treads.
Handrail around stairwell fabricated from white pine, finished by Moni's Art for You studio.
Nelson Project:
  Open treads with laminated stringers.  Fabricated from red oak.
Windsor-Smith Project:  Treads crafted with maple nosings and inlaid cork flooring.  Winder steps allowed for a minimal stairwell opening.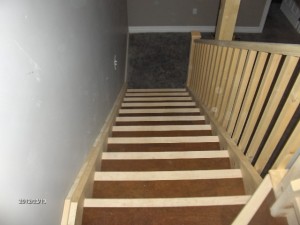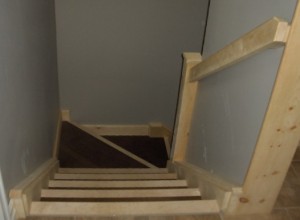 Fleming Project:  Custom-designed modified spiral staircase fit into 48″ by 53″ floor opening.  Crafted from red oak.
Staining by Bobbie Hannigan, Nouveau Interiors.